CuraMed®+OPC - 60 Softgels - Terry Naturally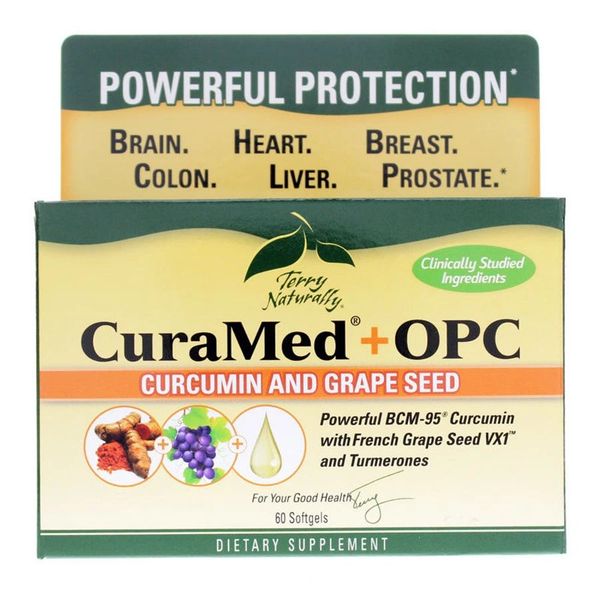 CuraMed®+OPC - 60 Softgels - Terry Naturally
CuraMed®+OPC - 60 Softgels



Reduce Your Risk of Oxidative Damage
Powerful Cell Protection for:
Brain

Heart
Breast
Colon
Liver
Prostate*
 CuraMed®+OPC features 3 full-strength ingredients with proven absorption and efficacy that can provide life-changing benefits:
Clinically Studied Curcumin—up to 10 times the absorption and greater blood retention than plain curcumin
High-absorption OPC French Grape Seed Extract­ VX1®—contains low molecular weight, tannin-free OPCs for high absorbability
Turmerones from Turmeric Oil—turmerones (standardized to 60%); provide beneficial compounds for cellular health not found in standard curcumin or turmeric*
This effective formula provides the targeted cellular protection you need to support healthy aging and reduce the risk of oxidative damage. It's the right choice to promote overall well-being, every day.*
1 effervescent tablet contains:
Calories 8
Total Carbohydrate 3g
Sodium 130mg
---(as Sodium Bicarbonate and Sodium Carbonate)
Potassium (from Potassium Bicarbonate) 150mg
Proprietary Complex 300mg---Curcumin (Curcuma longa) Rhizome Extract (BCM-95) enhanced with turmeric essential oil and standardized for curcuminoid complex (curcumin, demethoxycurcumin, and bisdemethoxycurcumin) supplying ³135mg of pure curcuminoids. Other Ingredients: sorbitol, citric acid, tangerine flavor, stevia leaf extract, sesame oil, organic rice concentrate.


Contains NO: sugar, yeast, wheat, gluten, soy, dairy products, artificial coloring, artificial flavoring, or artificial preservatives.

Vegan. Non-GMO. Kosher.
Recommended Use: Drop one tablet into 8 oz. of water or your favorite beverage and allow tablet to dissolve. Works in warm or cold beverages. Customize taste by adjusting amount of water. May adjust dosage as desired by adding more than one tablet.
Warning:
If you are pregnant or nursing, please consult your healthcare professional before using this product. Keep out of the reach of children.