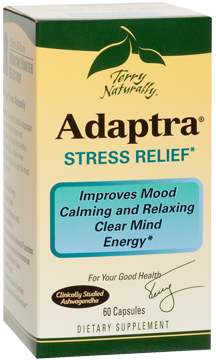 Adaptra, 60 Capsules
Adaptra, 60 Capsules
Is a potent, herbal adaptogen formula that fights stress and strengthens the body from within. It combines two traditional—and powerful—botanicals that support a balanced response to physical and emotional stress throughout the day.*
This amazing all-herbal formula provides the key compounds from extracts of Ashwagandha and Rhodiola that help you meet everyday challenges:
Maximize Energy
Relieve Occasional Stress
Sharpen Concentration
Enhance Physical Performance
Promote Muscle Tone and Strength
Enhance Sexual Function
Support Healthy Adrenal Function*
Recommendations: 1 capsule daily, may increase to 1 capsule three times daily, or as desired. For optimal results take on an empty stomach.
Ingredients: Ashwagandha Root Extract, Rhodiola Root Extract, hydroxypropyl methylcellulose (vegetable cellulose capsules), organic rice bran extract, silica, cellulose powder. Other Ingredients: Vegetable cellulose capsules, vegetable source magnesium stearate, silicon dioxide, cellulose powder.
No sugar, salt, soy, yeast, wheat, gluten, corn, dairy products, artificial coloring, artificial flavoring or preservatives.