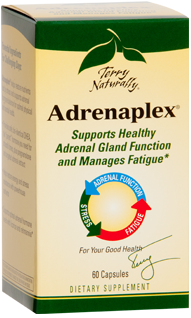 Adrenaplex, 120 Capsules
Adrenaplex
Helps restore nutrients lost by stress and supports adrenal hormone balance for optimal physical and mental health.

• Provides safe, bio-identical DHEA, the "parent" hormone you need for
stressful times, plus pregnenolone and targeted adrenal extract
• Helps restore energy and stress resistance with powerhouse nutrients
• Supports optimal adrenal hormone levels with licorice and rehmannia
If pregnant or nursing, consult a health care practitioner before using.


Recommendations:
1 to 2 capsules daily. May increase to 2 capsules, 3 times daily, if desired.

Ingredients:
Vitamin C, Vitamin B6, Pantothenic Acid, Adrenal Extract (freeze dried), L-Tyrosine, Licorice Root Exract, Rehmannia Root, Pregnenolone, DHEA Other Ingredients: Gelatin, microcrystalline cellulose, vegetable source magnesium stearate, silica, maltodextrin.
No:
sugar, salt, soy, yeast, wheat, gluten, dairy products, artificial coloring, artificial flavoring, or artificial preservatives.