Advanced DGL, Terry Naturally 60 Capsules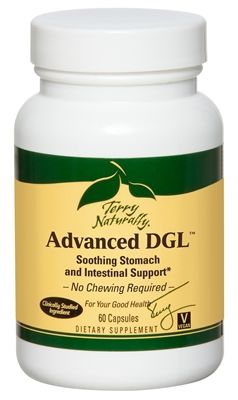 Advanced DGL, Terry Naturally 60 Capsules
Advanced DGL, 60 Capsules

A Better Way to Get Your DGL! Avoid the unpleasant taste of traditional, chewable DGL supplements. This clinically tested, standardized DGL (deglycyrrhizinated licorice) provides all the benefits of DGL, but does not have to be chewed.
Recommendations: One capsule twice daily.
Ingredients: Deglycyrrhizinated Licorice (DGL)(Glycyrrhiza glabra) Root Extract 75mg. Other Ingredients: microcrystalline cellulose, hydroxypropyl methylcellulose (vegetable cellulose capsules), organic rice bran extract, organic rice concentrate.
No: sugar, salt, yeast, wheat, gluten, corn, soy, dairy products, artificial coloring, artificial flavoring, or artificial preservatives.
VEGAN

Warning: If pregnant or nursing, consult a healthcare practitioner.