Anxiocalm, Terry Naturally, EuroPharma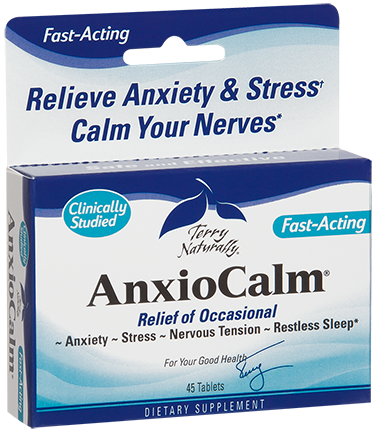 Anxiocalm, Terry Naturally, EuroPharma
Anxiocalm
Relief of Occasional:
–Anxiety
–Stress
–Nervous Tension
–Restless Sleep*
Anxious? Overwhelmed? Stressed?
AnxioCalm® is clinically studied to quiet your nerves and relieve your occasional anxiety—without drowsiness!*
It's the safe and effective way to help relieve
• Occasional anxiety and nervousness
• Everyday stresses
• Excessive worry*

AnxioCalm® is perfect for everyday use, or occasionally when you need extra support. It provides relief when you need it, without drowsiness or mental fogginess.
Dietary Supplement
Recommendations: 1 tablet twice daily for occasional use. For aggressive support, may take 1 tablet up to 4 times daily. May take at bedtime to support restful sleep.
Ingredients: Narrow-leaved Coneflower Root Extract, Other Ingredients: Cellulose powder, lactose (milk), aqueous film coating, croscarmellose sodium, vegetable source magnesium stearate, silicon dioxide.