Bone-Sil (Silica) Terry Naturally, 60 Tablets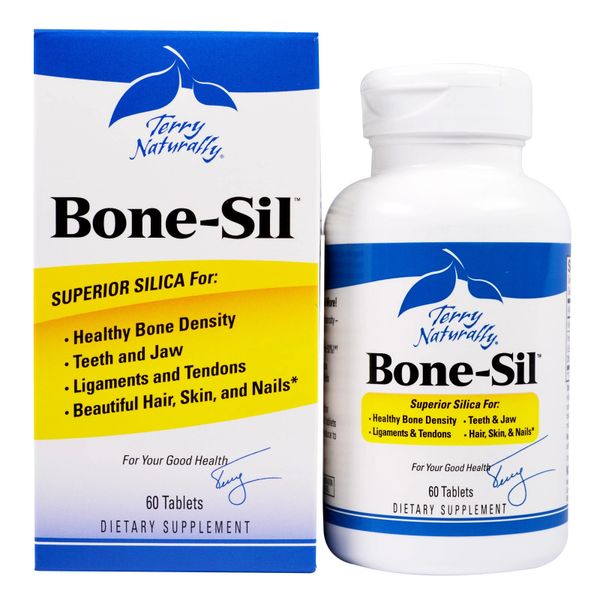 Bone-Sil (Silica) Terry Naturally, 60 Tablets
Bone-Sil

Bones are Living Tissue—They Need Silica! Silica is required for healthy collagen and connective tissue, which form the foundation for bones, tendons, ligaments, teeth, skin, hair and nails. But silica—like many minerals—is difficult to get from diet alone. Bone-Sil™ provides silica, a critical trace mineral that supports bone health and bone density. Silica is necessary for the utilization of calcium to maintain healthy, strong bones.

Bone-Sil: The Superior Silica!

A plant-based source of silica—not synthesized from chemicals.
A gentle, proprietary extraction process preserves the silica and beneficial flavonoids while filtering out harsh, unnecessary compounds.
The addition of trace minerals from the sea and healthy marine lipids enhance silica's absorption for even greater bone support.
Recommendations
: 1-2 tablets daily; for enhanced benefits may increase to 2 tablets three times daily for 2 weeks, then reduce to 1-2 tablets daily thereafter.
Ingredients: 2 tablets contain: Vitamin D3 (cholecalciferol) 200 IU (50%) Horsetail (Equisetum arvense) 800mg ---Aerial Extract standardized to 20mg of Silica, with naturally occurring flavonoids Other Ingredients: Other Ingredients: Tricalcium phosphate, magnesium hydroxide, marine (shark oil) lipids, silicon dioxide, vegetable source magnesium stearate, hydroxypropyl methylcellulose, trace minerals (from the sea), titanium dioxide, stearic acid, microcrystalline cellulose, chlorophyll coating.
No: sugar, salt, yeast, wheat, gluten, corn, soy, dairy products, artificial coloring, artificial flavoring, or artificial preservatives.