Clinical OPC™ Extra Strength, 60 Softgels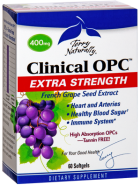 Clinical OPC™ Extra Strength, 60 Softgels
 Clinical OPC™ EXTRA STRENGTH
French Grape Seed Extract contains powerful health promoting nutrients called oligomeric proanthocyanidins (OPCs) that support a wide range of health needs. Clinical OPC™ provides tannin-free, low-molecular OPCs for the best absorbability.
Clinical OPC™ – Superior Absorption for Full Benefit
Years of research have found that the benefits of grape seed extract are due to Oligomeric Proanthocyanidins, known as OPCs. But these powerful health promoting nutrients need to be absorbed in order to support good health. Clinical OPC™ contains a unique French Grape Seed Extract containing only easily absorbable OPCs for maximum benefits.*
Many other grape seed extracts include high levels of tannins—OPCs with a high molecular weight, little absorption, and few health benefits.
• Heart and Arteries
• Blood Sugar†
• Cellular Protection
• Immune Function
• Cholesterol Balance†
• Weight Management††
• Focus and Concentration
• Blood Pressure†*• Liver Function*

Recommendations: 1 softgel daily, may take up to 3 times a day for enhanced benefits.
Ingredients: French Grape seed extract (Tannin Free) 150mg. Other ingredients: Cellulose powder, hydroxypropyl methylcellulose (vegetable cellulose capsules), silica, and vegetable source magnesium stearate.
No: sugar, salt, yeast, wheat, gluten, corn, soy, dairy products, artificial coloring, artificial flavoring, and artificial preservatives.
NON-GMO
Warning: If pregnant or nursing, consult a health care practitioner before using.