Colon & Bowel Probiotic 30 Capsules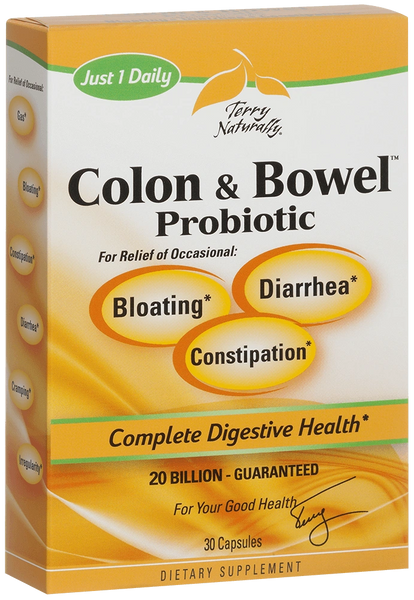 Colon & Bowel Probiotic 30 Capsules
Colon & Bowel Probiotic 30 Capsules
It's the Type of Probiotic That Matters—Not the Count While many probiotic supplements talk about the amount of beneficial bacteria they deliver, the real importance is what type of probiotics you get—not just the count. Only Colon & Bowel Probiotic features the FloraSure™ probiotic blend, a unique combination of live, active cultures with a long history of human use, specifically chosen to help relieve occasional digestive discomforts. Colon & Bowel Probiotic provides the probiotics you need to support healthy intestinal flora, ease occasional gut issues, and promote everyday gastrointestinal function.* Relieves occasional: Intestinal Graphic Gas Bloating Cramping Irregularity Diarrhea Constipation* Why Colon & Bowel Probiotic? FloraSure probiotic blend: 20 billion live, active probiotic bacteria Provides Lactobacillus plantarum, Lactobacillus rhamnosus, and Bifidobacterium bifidum Non-dairy based probiotic—perfect for individuals with diet sensitivities.

No refrigeration necessary
1 capsule contains:
FloraSure Proprietary Probiotic Blend 20 Billion
---Lactobacillus plantarum, Lactobacillus rhamnosus and Bifidobacterium bifidum Other Ingredients: rice maltodextrin, hydroxypropyl methylcellulose (vegetable cellulose capsule), fructooligosaccharides (FOS), vegetable source magnesium stearate, silica.


Contains NO: sugar, salt, yeast, wheat, gluten, corn, soy, dairy, artificial flavoring, artificial coloring or artificial preservatives.


Vegan. Kosher. Non-GMO.
Recommended Use: Take 1 capsule daily, with food. May increase as desired.
Warning:
If you are pregnant or nursing, please consult your healthcare professional before using this product. Keep out of the reach of children.