CuraMed 750mg 60 Softgels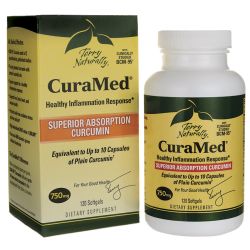 CuraMed 750mg 60 Softgels
CuraMed 750mg 60 Softgels



CuraMed is a blend of three targeted ingredients that is believed to promote the body's healthy internal response. This tissue-support formula includes curcumin (BCM-95), phospholipids and turmeric essential oil. BCM-95 is a scientifically researched, highly absorbable curcumin formula. Study results showed blood levels of BCM-95 at 10 times the levels of other curcumin products two hours after ingestion. Curcumin is the active ingredient in turmeric, which is obtained from the roots of the
Curcuma longa
plant.
CuraMed is designed to support the maintenance of overall good health as well as tissue, brain, heart, immune and liver health. It is often used to support a healthy internal response and to promote antioxidant activity.
CuraMed Product Details
A clinically studied BCM-95 formula
Delivers as much as 10 times more curcumin to the blood than plain varieties
750mg of Terry Naturally's proprietary complex per softgel
500mg pure curcuminoids per softgel
Seeks to support a healthy internal response in the body
Doesn't interfere with kidney, liver or stomach function
60 softgels
If you're looking for a natural way to promote a tissue health and antioxidant activity in your body, consider Terry Naturally's CuraMed. Order here and get free domestic shipping!
1 softgel contains:
Proprietary Complex 750mg
---Curcumin (curcuma longa) rhizome extract (BCM-95), phospholipids, turmeric essential oil, supplying 500mg of pure curcuminoids
Other Ingredients: medium chain triglycerides, gelatin, glycerin, sunflower lecithin, yellow beeswax, purified water and turmeric in sunflower oil (softgel color).
Contains NO: sugar, salt, yeast, wheat, gluten, corn, soy, dairy, artificial coloring, artificial flavoring, no preservatives. It contains only natural ingredients. Color variations are normal.
BCM-95 is a registered trademark of Dolcas-Biotech.
Recommended Use:
Adults: 1 softgel daily, may increase as desired.