CuraMed® Effervescent Tablets (350 mg)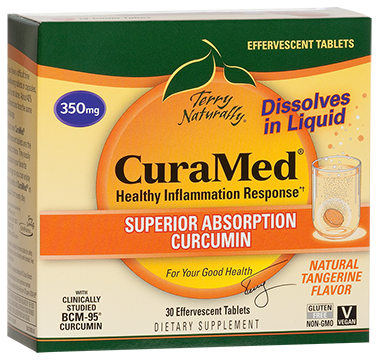 CuraMed® Effervescent Tablets (350 mg)
CuraMed® Liquid - Tasty and Easy to Take!
Effervescent tablets, dissolved in liquid, are perfect for those who have difficulty swallowing capsules or tablets.

• Cell-protecting BCM-95® Curcumin*
• Excellent for adults and children
• Provides 135 mg of curcuminoids, the key component found in turmeric
• Mild tangerine flavor
Recommendations: Drop one tablet into 8 oz. of water or your favorite beverage and allow tablet to dissolve. Works in warm or cold beverages. Customize taste by adjusting amount of water. May adjust dosage as desired by adding more than one tablet.
Ingredients: Curcumin, Ginger, Turmeric Essential Oils, Other Ingredients: Sorbitol, Citric Acid, Potassium Bicarbonate, Natural Tangerine Flavor, Stevia, Sesame Oil, Organic Rice Concenrate
GLUTEN FREE
VEGAN
NON-GMO
Warning: If pregnant or nursing, consult a health care practitioner before using.