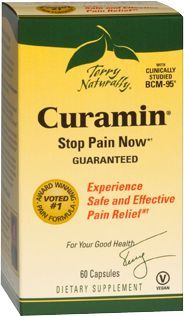 Curamin 60 Capsules
Curamin 60 Tablets

All-Natural Pain Relief Support
What makes Curamin special is the unique form of curcumin known as BCM-95, which was developed specifically for this product. BCM-95 curcumin is designed to be as much as 10 times more absorbent. That means you'll get more relief when you need it, instead of waiting for it to kick in. It has also been proven effective in clinical studies to promote pain relief support, especially in sore.
Fast, natural pain relief support
Contains highly absorbent BCM-95 curcumin
Uses only natural ingredients
Winner of multiple awards
Lab tested for purity
Vegan-friendly
Other ingredients including boswellia, nattokinase and DLPA may help temporarily relieve pain and swelling, promote blood flow and even support your mood.
Whether you're feeling the day-after muscle pain from an intense workout, or suffer from headaches and achiness after a stressful day, Terry Naturally's Curamin may help you deal with joint and muscle discomfort.
Find out if Curamin with BCM-95 curcumin can bring you relief by ordering today! We offer free domestic shipping!
3 capsules contain:
Proprietary Complex 2,181mg:
---DLPA (Dl-Phenylalanine), Boswellia (Boswellia serrata) gum resin extract (BosPure) standardized to contain > 70% total organic and boswellic acids with AKBA >10%, with less than 5% beta-boswellic acids, Curcumin (curcuma longa) rhizome extract (BCM-95) enhanced with turmeric essential oils and standardized for curcuminoid complex (curcumin, demethoxycurcumin and bisdemethoxycurcumin), Nattokinase
Other Ingredients:
hydroxypropyl methylcellulose (vegetable cellulose capsules), vegetable source magnesium stearate and silicon dioxide.
Contains Soy
(less than 5 parts per million)