Curamin® Extra Strength, 120 Tablets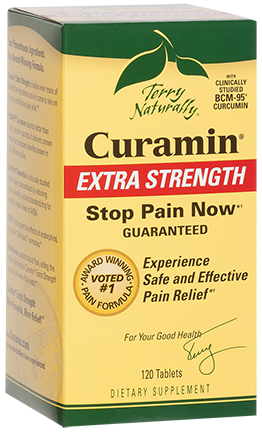 Curamin® Extra Strength, 120 Tablets
Curamin® Extra Strength
Experience Safe and Effective Pain Relief*†

Stop Pain Now*†
Ingredients: DLPA (DL-phenylalanine), Boswellia (Boswellia serrata) Gum Resin Extract (BosPure®) standardized to contain >70% Total Organic and Boswellic Acids with AKBA >10%, with less than 5% beta-boswellic acids, Curcumin (Curcuma longa) Rhizome Extract (BCM-95®) enhanced with turmeric essential oils and standardized for curcuminoid complex (curcumin, demethoxycurcumin and bisdemethoxycurcumin), Nattokinase. Other Ingredients: cellulose powder, stearic acid, silicon dioxide, vegetable source magnesium stearate, croscarmellose sodium, ethylcellulose. Contains Soy (less than 5 parts per million)
No: sugar, salt, yeast, wheat, gluten, corn, dairy products, artificial coloring, artificial flavoring, or artificial preservatives. Color variations are normal.
   VEGAN   NON-GMO
All ingredients established in human studies for safety and effectiveness.
Does not interfere with stomach, liver or kidney function.

† Occasional muscle pain due to exercise or overuse.

Warning: If pregnant or nursing, consult a health care practitioner before using.