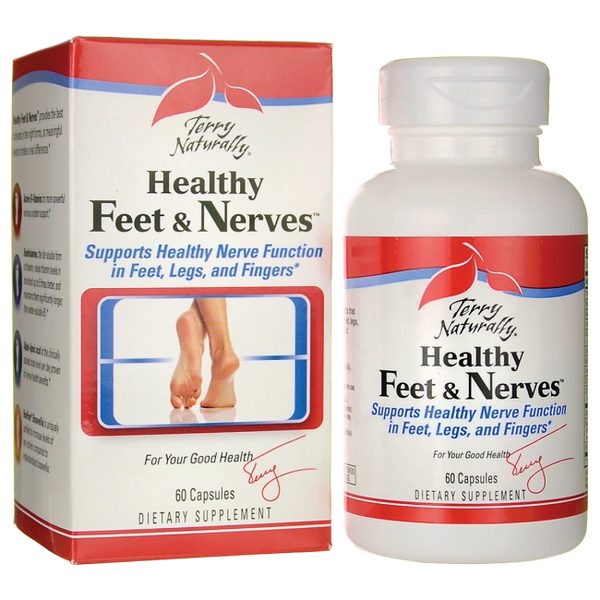 Healthy Feet & Nerves
Healthy Feet & Nerves
Healthy Feet & Nerves provides the nutrients that support the delicate nerve endings in your feet, legs, fingers, and throughout your body.* Active B-Vitamins for more powerful nervous system support.* Benfotiamine, the fat-soluble form of thiamin, raises thiamin levels in the blood up to 5 times better, and maintains them significantly longer, than water-soluble B1.* Alpha-lipoic acid at the clinically studied dose level per day proven for nerve health benefits.* BosPure® Boswellia is uniquely purified to increase levels of key actives compared to unstandardized boswellia. Discover the comfort and benefits of Healthy Feet & Nerves™ and enjoy being active!
Healthy Feet & Nerves was voted one of10 Best New Products of 2012 by Vitamin Retailer Magazine.
2 capsules contain:
Thiamin (B1) (as thiamine HCl) 25mg, Riboflavin (Vitamin B2) 25mg, Niacin (Vitamin B3) (as niacinamide) 10mg
Vitamin B6 (Pyridoxal-5-Phosphate) 30mg, Folate 250mcg (63%) (as (6S)-5-methylfolate) (equivalent to 500mcg of (6S)-5-Methyltetrahydrofolic acid, glucosamine salt), Vitamin B12 (as Methylcobalamin) 500mcg, Biotin 1,000mcg Pantothenic acid (as D-Calcium Pantothenate) 200mg, Calcium 40mg, (from D-calcium pantothenate, calcium sulfate, dicalcium phosphate)
Zinc 10mg (from TRAACS Zinc Glycinate Chelate), Chromium 200mcg, (from TRAACS Chromium Nicotinate Glycinate Chelate)
Alpha Lipoic Acid 200mg, Boswellia (Boswellia serrata) Gum Resin Extract 100mg, (BosPure standardized to contain >70% total organic and boswellic acids with AKBA >10% with less than 5% beta-boswellic acids), Other Ingredients: hydroxypropyl methylcellulose (vegetable cellulose capsule), microcrystalline cellulose, organic rice bran extract, organic rice concentrate, silica, maltodextrin.


Contains NO: sugar, salt, yeast, wheat, gluten, soy, dairy products, artificial coloring, artificial flavoring, or preservatives. Vegan.
Recommended Use:
Adults: 2 capsules three times daily. Adjust dosage as desired.
Warnings:
If you are pregnant or nursing, please consult your healthcare professional before using this product. Keep out of the reach of children.