Pomegranate Seed Oil - 60 Softgels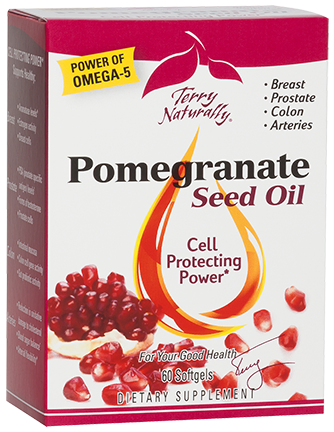 Pomegranate Seed Oil - 60 Softgels
Pomegranate Seed Oil - 60 Softgels

Pomegranate Seed Oil provides punicic acid – an (omega-5) fatty acid missing from many diets. The only known botanical source of this crucial fatty acid is pomegranate seed oil. Combined with the high antioxidant value from pomegranate fruit polyphenols, Pomegranate Seed Oil provides a unique – and convenient – combination.*
Cell Protecting Power with TWO types of extract:
Pomegranate Seed Oil contains two types of pomegranate extract. It combines a supercritical extraction of the oil of the seed, which is rich in omega-5 – punicic acid – which is blended with a polyphenol-rich fruit extraction for double the benefits. This unique combination is what makes Pomegranate Seed Oil able to support a variety of health concerns.*
• Supercritical Seed Oil Extract: Supports healthy hormone balance
and strong blood vessels and arteries.*
• Fruit Extract: Protects against the risk of oxidative stress.*
Supplement Facts:
1 softgel contains:
Proprietary Blend 600mg containing
Organic Pomegranate (Punica granatum) Seed Oil by Supercritical CO2 extraction
---standardized to contain 60% punicic acid
Pomegranate (Punica granatum) Fruit Extract
---standardized for 60% polyphenols
Other Ingredients: gelatin, glycerin, yellow beeswax, purified water, sunflower lecithin, silica, annatto suspension in sunflower oil.


Contains NO: sugar, salt, yeast, wheat, gluten, corn, soy, dairy products, artificial coloring, artificial flavoring, or preservatives. NON-GMO.
Recommended Use:
Adults: 1 softgel, once or twice daily.
Warning:
If you are pregnant or nursing, please consult your healthcare professional before using this product. Keep out of the reach of children.