Thyroid Care™ 120 Capsules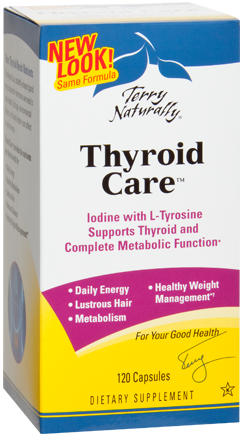 Thyroid Care™ 120 Capsules
Thyroid Care
Iodine with L-Tyrosine
Supports Thyroid and Complete Metabolic Function*

The Nutrients Your Thyroid Needs!Iodine
in three forms, including potassium iodide, sodium iodide, and molecular iodine for thyroid hormone synthesis, which in turn supports a healthy metabolism, lustrous hair, and hormone balance.*
L-Tyrosine
, an amino acid required to create thyroid hormones, supports mental well-being and daily energy.*
Thyroid Care™ supports:• Daily Energy
• Healthy Metabolism
• Lustrous Hair
• Hormone Balance
• Healthy Weight Management*†

† In conjunction with a healthy diet and exercise
Recommendations: 1–2 capsules daily in the morning on an empty stomach.
2 capsules contain:
Iodine 30,000mcg (30mg) (20,000%DV)
---(as sodium iodide, potassium iodide, and molecular iodine [from kelp])
L-Tyrosine 400mg
Other Ingredients: microcrystalline cellulose, vegetable capsule, and silicon dioxide. Contains NO: sugar, soy, yeast, wheat, gluten, corn, dairy products, artificial flavoring or preservatives. It contains only natural ingredients. Color variations are normal.
Recommended: Take 2 capsules daily, may increase up to 4 capsules daily or as recommended by a healthcare professional.
Warning: If you are pregnant or nursing, please consult your healthcare professional before using this product. Keep out of the reach of children.