Tri-Iodine™ 12.5 mg 180 Capsules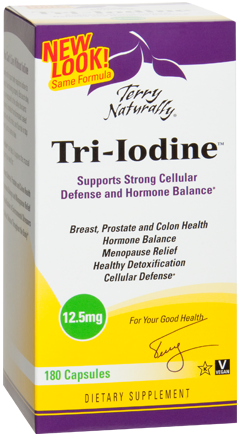 Tri-Iodine™ 12.5 mg 180 Capsules
Tri-Iodine
Supports Strong Cellular Defense and Hormone Balance*
Breast, Prostate and Colon Health
Hormone Balance
Menopause Relief
Healthy Detoxification
Cellular Defense*
Tri-Iodine™ provides
three beneficial forms
of iodine to nourish multiple body systems:
a blend of potassium iodide, sodium iodide, and molecular iodine.
Three forms of iodine provide a wider spectrum
of benefits:
Potassium iodide, sodium iodide for hormone balance and immune health. and Molecular iodine for breast, prostate, colon, and cellular health*
Breast, Uterine, Prostate and Colon Health
Hormone Balance and Menopause Relief
Detoxification of Environmental Stressors
Cellular Defense Throughout the Body*
Recommendation:
1 Capsule

Each capsule contains:
Iodine 12.5mg (8333%DV) (5mg as molecular iodine, 5mg as sodium iodide, and 2.5mg as potassium iodide). Other Ingredients
:
Cellulose, vegetable capsule (hydroxypropyl methylcellulose, water), L-leucine, and silicon dioxide.
Contains NO:
sugar, soy, yeast, wheat, gluten, corn, dairy products, artificial flavoring or preservatives.
It contains only natural ingredients
. Color variations are normal.
Warnings: If you are pregnant or nursing, please consult your healthcare professional before using this product. Keep out of the reach of children.